OpenConcept ranks in top 10% of B Corps on Positive Employee Impact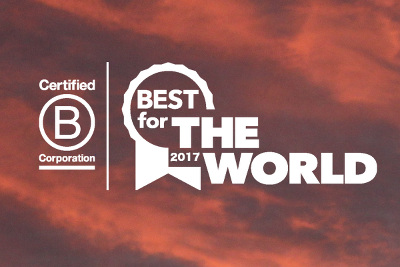 We are happy to announce that OpenConcept Consulting Inc. has been recognized for creating the most positive overall community impact by the nonprofit B Lab.
OpenConcept has been named a winner in the Best for Workers list, which means that in our B Impact Assessment we scored in the top 10 percent of more than 2,255 companies around the world. B Corporations are for-profit companies from around the world that have been certified by B Lab against rigorous standards of social and environmental performance, accountability, and transparency.
The Workers portion of the B Impact Assessment measures how a company treats its employees by assessing compensation, benefits, training and ownership opportunities. It also looks at the overall work environment within the company, focusing on management/worker communication, job flexibility, corporate culture and worker health and safety practices.
"The companies we are honoring as the best for the world represent the cutting edge of a global movement using business as a force for good," said Bryan Welch, CEO of B the Change Media.
Being a B Corp is important to us as an organization, not just because of the direct impact we can have as a responsible employer, but because we are part of a growing network that demonstrates that business can be "not-only-for-profit", but good for our team, the community we live in and the environment that we all depend on.
In a competitive market, OpenConcept tries to maximize what we can do with our B Corp Certification to be able to attract staff that share our desire to have an impact. We try to give back by seeking out great clients with meaningful projects and supporting the work of the open source community which drives most of us. The B Impact Assessment has helped OpenConcept find new ways to give back to our employees and support them in having work-life balance
Today there are over 2,255 Certified B Corporations across over 130 industries and 50 countries, unified by one common goal: to redefine success in business. For more information, visit bcorporation.net.
About The Author
Mike Gifford is the founder of OpenConcept Consulting Inc, which he started in 1999. Since then, he has been particularly active in developing and extending open source content management systems to allow people to get closer to their content. Before starting OpenConcept, Mike had worked for a number of national NGOs including Oxfam Canada and Friends of the Earth.