Your Organization Using Drupal? Get a Drupal.org Account!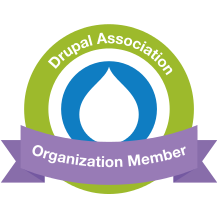 There are over a million Drupal sites on the internet. There is a huge range of organizations who use Drupal across all sectors of our economy. Unfortunately, when you look at Drupal.org you mostly see representation from the web industry. Web development shops, communications teams, and freelancers that make their living from building and customizing Drupal sites.
It's not that it isn't amazing to have 100,000 plus developers in an online community working to make Drupal meet their needs. It is.
But what we're largely missing is those organizations that use Drupal to drive their enterprise, but don't actively engage with the community. Most organizations using Drupal aren't tech companies, but those who need this technology to accomplish their mission.
As nicely defined in the book, the Phoenix Project, Information Technology (IT) is at the core of all successful organizations. It doesn't matter what your mission is, in 2018, it will involve IT.
Now you may not have a Drupal resource in-house, but if you use Drupal it is in your interest to see that the community behind the software is robust. If you don't already have an account on Drupal.org, sign up now, then you can show your support to the community by creating an Organisation Account on Drupal.org. Doing this marks your interest in the community. Associating your brand with Drupal strengthens the whole community. It can encourage your peers to become more involved in the community too. 
If you're proud about what you've been able to accomplish, you can even share your experiences in a case study. There are so many good ones to browse through. It is a terrific way to highlight the team that made the site a success, and the best way to get your site featured on the front page of Drupal.org.
Paul Johnson, posted on this issue earlier and in his article he wrote, "the more organizations we can convince to register on Drupal.org, the greater net benefit for us all." I totally agree with his post and wanted to try to expand on it. I hope that other firms that are likewise encouraged to reach out to their clients.  
It is clear how organizations registering on Drupal.org will help our community, but how does this help the organizations that sign up? In particular how could medium and large organizations benefit from being involved?  
Here are some possibilities:
Improve your SEO, Drupal is popular
Internal hiring, making sure that designers & developers know you are involved
Breaking down your silos and allowing your staff to connect around a technology stack
Greater peer collaboration and feedback around modules that are important to you
Getting credibility from the community for projects that your team is involved
Increased confidence around security and accessibility with greater oversight of code
Ability to demonstrate thought leadership
If you sign up as an organizational member you can use the Drupal Organization Membership badge on your project.
Listing your organization on Drupal.org puts you in good company. Here are a few leading organizations:
Johnson & Johnson is clearly a leader as they are a Charter Customer Supporting Partner, have provided a case study and also come to Drupal events.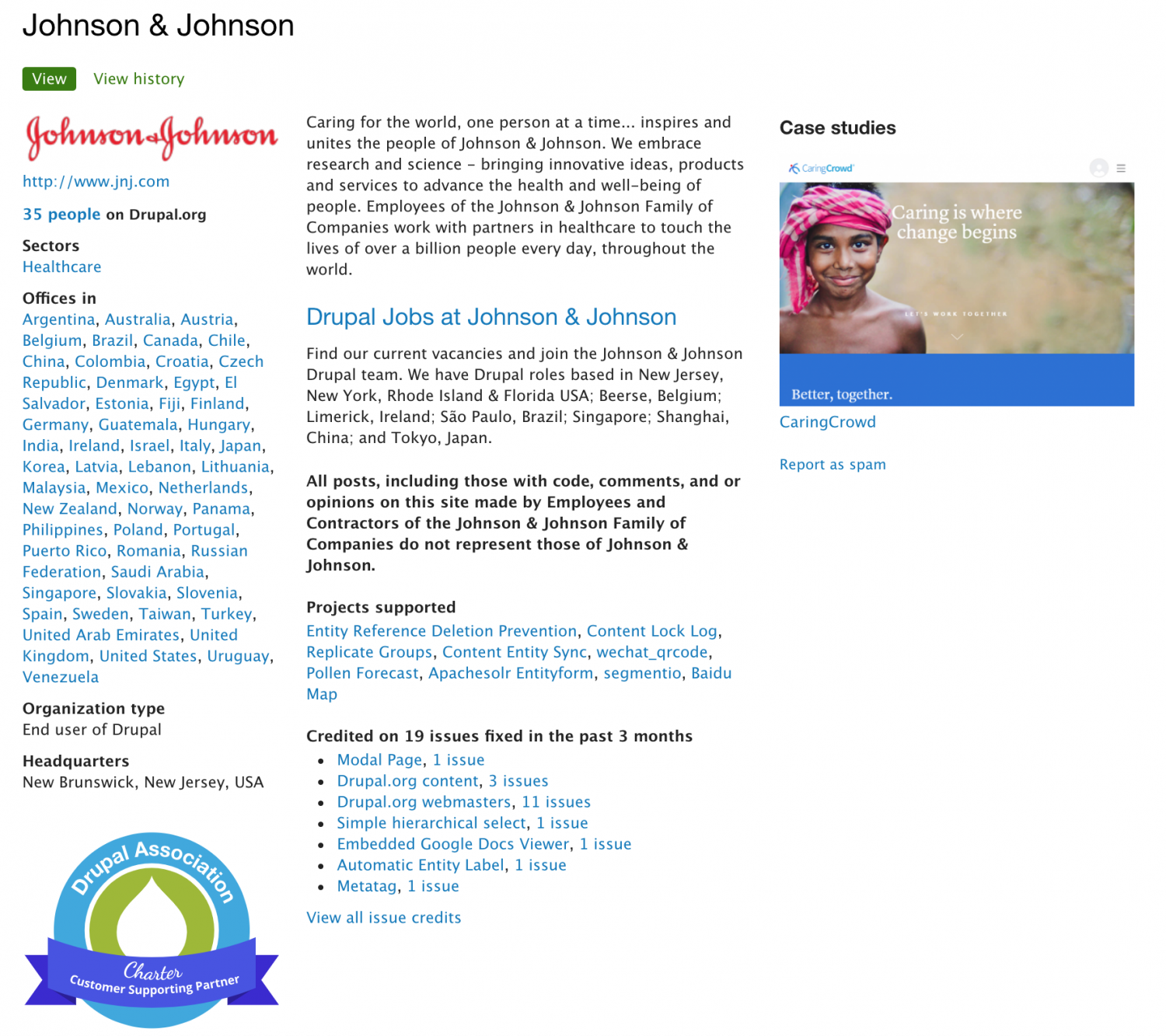 Smithsonian Institution provides examples of some of the amazing sites that they build with Drupal, but have also given a terrific case study.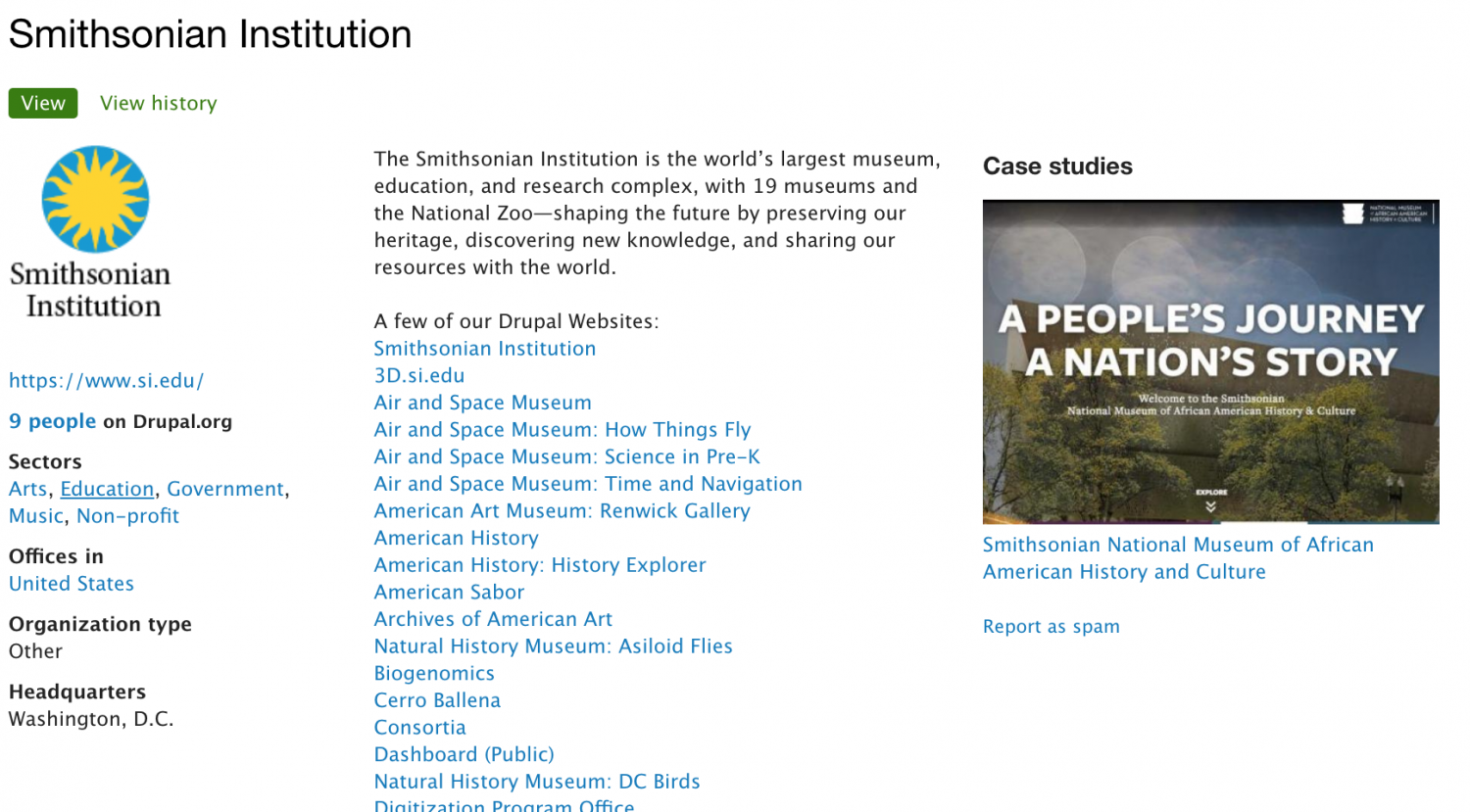 Dennis is a Drupal Association Member and have supported many Drupal projects. It is also a terrific example of how they are promoting what they do to a new audience.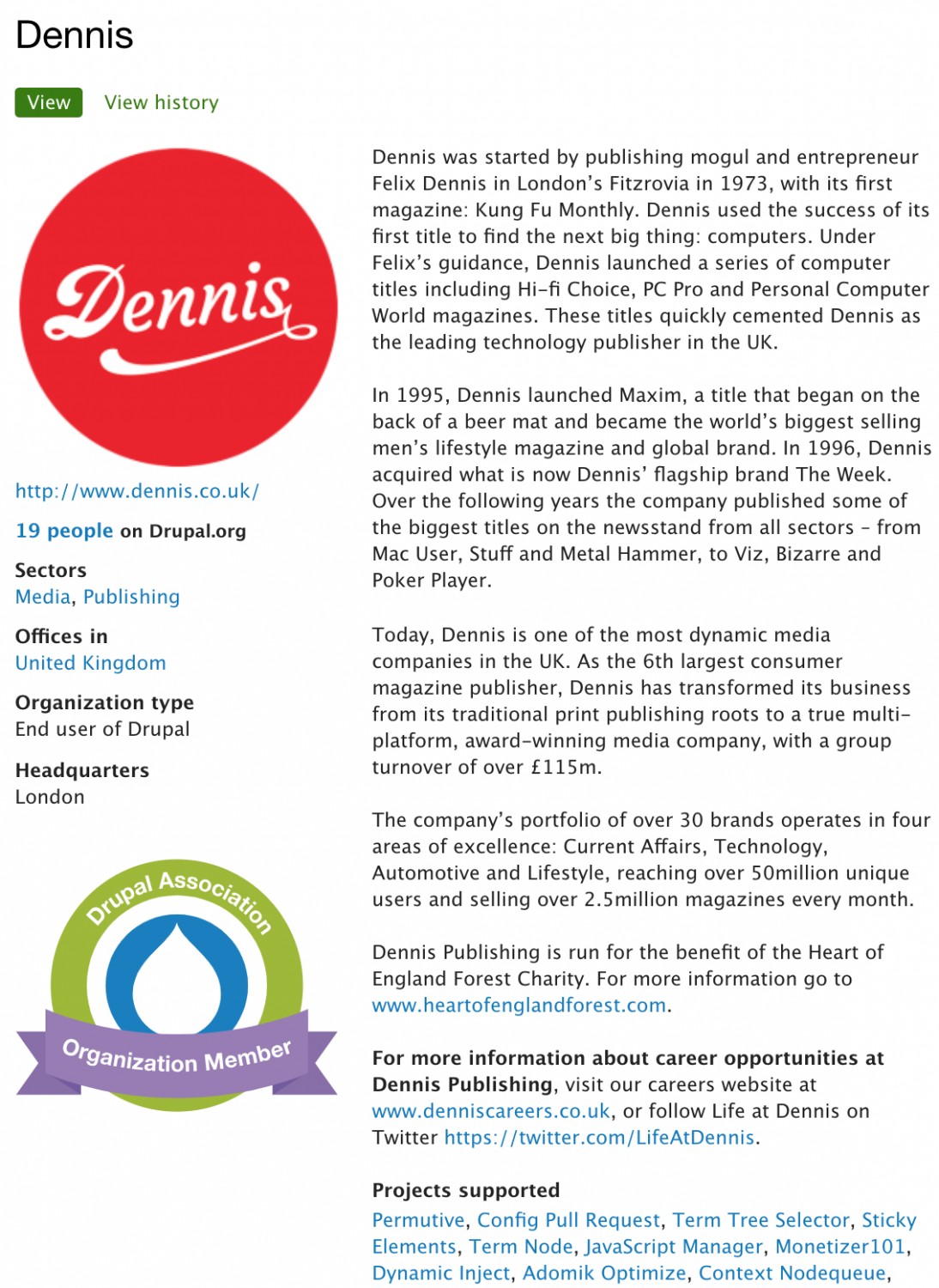 Red Hat supports several modules, has been officially credited in 18 fixes in the last 3 months, is an Organizational Member and highlights all of the countries around the world where they have offices. It will be interesting to see if they are able to encourage IBM to do the same.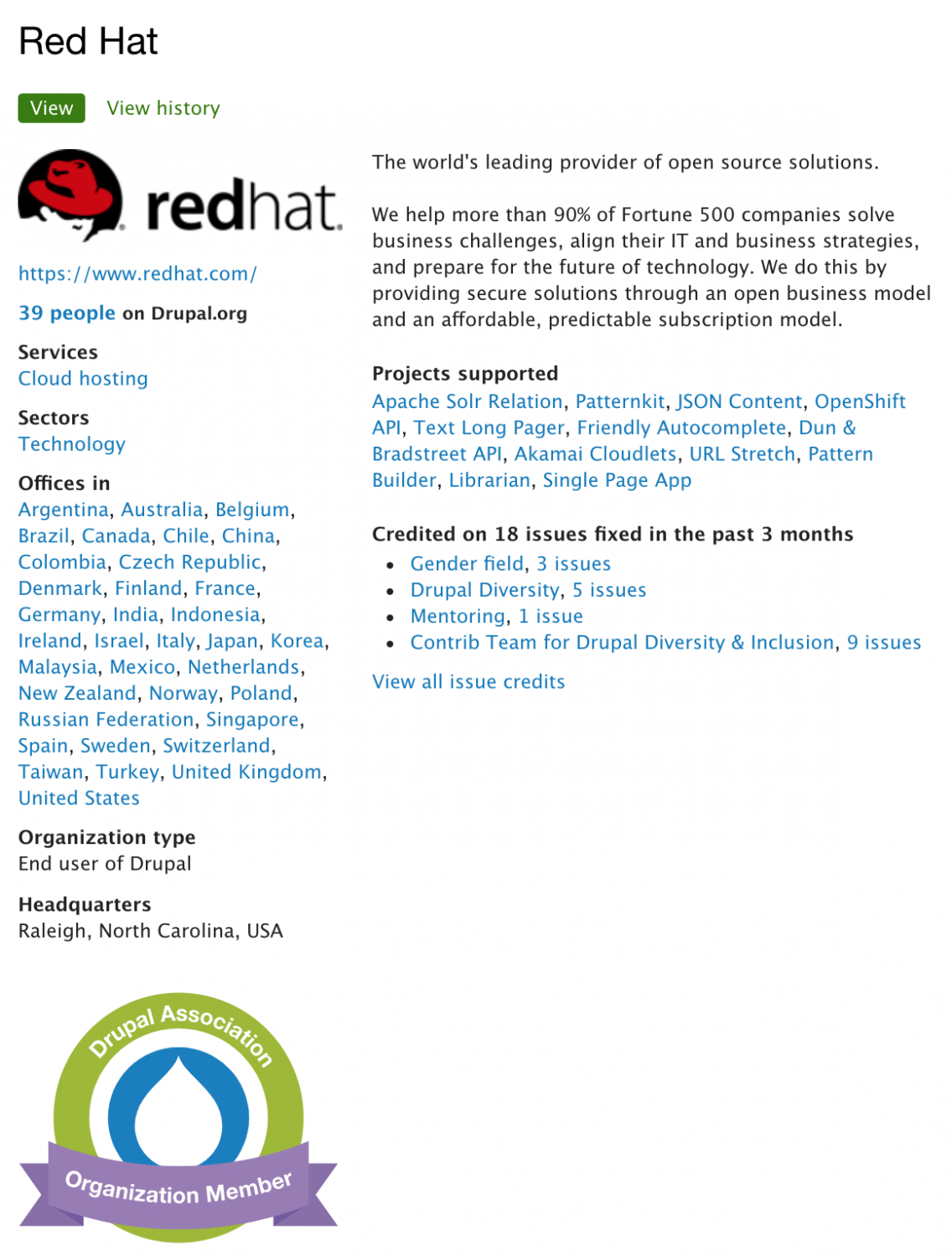 Jacob Rockowitz is the genius behind the Drupal 8 Webform module has called for Drupal Shops to "Collectively start asking our clients to be contributing members of the community."
We need to encourage our clients to join our community. There are 2 simple steps ideally your customers must take:
Create an organization account: Add an organization (you need to already have a confirmed user account to do so)
Support the Drupal Association: Join here. You can make a difference with as little as USD $200 or €160 but I would challenge organizations to contribute more if possible (say 0.1% of your current website budget).
Many people initially are attracted to Drupal because it is powerful and you have to pay $0 in licensing fees. Most forget that you are getting USD $31 million dollars worth of software for free, according to OpenHub's calculations.
That multi-million dollar effort will become worthless if we don't have more people stepping up and supporting it.
OpenConcept is encouraging it's clients to become members of the both Drupal.org and also the Drupal Association.  We hope other Drupal shops do too!
As Paul said, "Boosting the number of organizations registered on Drupal.org that are end user brings many benefits. I do hope that, consistent with the spirit of open source and Drupal that you consider encouraging your customers to start on this contribution path. Perhaps creating an account will start them on a journey to greater engagement with the project too?"
Paul's original article can be found here.
About The Author
Mike Gifford is the founder of OpenConcept Consulting Inc, which he started in 1999. Since then, he has been particularly active in developing and extending open source content management systems to allow people to get closer to their content. Before starting OpenConcept, Mike had worked for a number of national NGOs including Oxfam Canada and Friends of the Earth.